We recognize that all our patients are unique and deserve to receive dental care that reflects their individual needs. Our experienced and talented dental team is committed to working with you and your family to create a comfortable, stress-free, and rewarding dental experience every time you visit our practice.
We are pleased to welcome you and your family, and we look forward to working with you.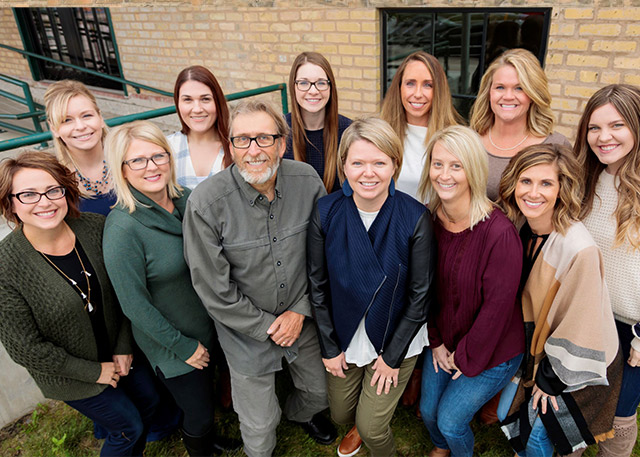 ---
Tara
Office Manager
I have been the Office Manager since 2014. Graduating from NDSU in Business Administration & Hospitality. Each day brings new and interesting interactions with our patients, and I love getting to know them on a personal basis along with the generations of family's we see at our office. Having been at the office 9 years its so fun to watch the family's change. I especially enjoy hearing all the fun stories about all our patients. Everyone on our team has an amazing relationship and we all truly value and care about our patients and they can feel that when they come to our office. We strive to have everyone be as comfortable, like family!
My husband Tyler and I have 3 amazing kids along with a black lab that we Adopted from Service Dogs of America, Miss Rizzo. I love spending weekends at Lake Lida with the family fishing, hiking Maplewood State park, skiing at Big Sky, and reading when I get a chance. You will find me proudly wearing my alum green and gold as I celebrate the NDSU Bison! Go Bison!
Wendy
Office Coordinator
I have been our Office Administrator since 2013, and have been in dentistry for 23 years working previously as a dental assistant. I work with our patients to schedule convenient appointments and assist them with any questions they may have about their appointments or account. I enjoy talking with patients and getting to know all about their life outside our office. They have some really great stories! I also really appreciate working with such an outstanding team of people who are passionate about what they do.
My husband Dan and I have a son, Brody, who keeps us busy with sports and activities. We also have a fun and friendly Yorkie, Lola. I enjoy shopping, being with family and friends, and the North Dakota weather.
Lauren
Dental Assistant/EFDA
It is my goal to make sure each patient is comfortable throughout the procedure. Our team is wonderful; we all work together to make sure each patient has the highest quality of care. We make each patient feel at home, whether it means adding some extra pillows on the headrest or covering patients with a blanket to make them nice and cozy.
I have been with our office since 2011 after graduating from M State in Moorhead, MN. In 2018 I attended the University of Minnesota Dental School for additional training placing fillings for both doctors. It is so rewarding to assist in the care of our patients and help them achieve a healthy smile.
I'm originally from a small town in central Minnesota and moved to the area a number of years ago with my husband Jon. We have enjoyed raising our family in this safe and growing community.
Caitlin
Dental Assistant
I graduated from M State in 2011. I have worked for Dr. McDonald & Dr. Gruchalla since 2012. I enjoying being part of a fast paced dental office and am grateful to be part of such a supportive team as my co-workers have become my second family.
When I am not in the office, I enjoy going to the gym, cooking, reading and anything outdoors.
Sara
Dental Assistant
I attended M State in Moorhead for my dental assisting degree and was fortunate enough to be placed in this office for my internship. I began working full-time after graduation in 2016. As a dental assistant, I work alongside our doctors to create a positive environment in which our patients receive care.
I grew up in Pelican Rapids, Minnesota, but was born in Dover, Delaware. I enjoy spending time with my husband, family, and friends.
Mikayla
Dental Assistant
I graduated from M State and became a part of Dr. McDonalds & Dr. Gruchalla's team in 2021. As a dental assistant, I get to meet lots of new faces both young and old and get to work alongside both doctors to provide top notch dental care. One of the things I love about dental assisting is that there are always ways to improve yourself and learn new things. Every single day throws something new at you so you never get stuck in a rut!
When I get home from work, my kitten Lindy greets me with her playful attitude. Outside of the office, I love to go on fishing trips with my boyfriend, bake sweet treats, and craft.
Angie
Dental Hygienist
I have worked in our office for more than 18 years. As a dental hygienist, my main focus is improving and maintaining our patients' gum and bone health, and making sure they receive the treatment needed to keep their teeth healthy. One of the things that I find most rewarding is being able to make the experience of the patients a pleasant one.
It is also nice to introduce an enjoyable and fun experience for kids when they begin coming to the dentist, so that they look forward to future appointments in our office. It is gratifying to see our patients leave with a smile. We have a very close team at our office. We are not only co-workers, but friends as well. We enjoy spending time together both in the office, and out of the office.
I am very lucky to be blessed with two wonderful healthy and happy children: a girl and a boy. I am fortunate to have my parents, siblings, and nieces living in the Fargo-Moorhead area. The kids and I enjoy spending a lot of time with our family. We also spend every free moment of warm weather enjoying time at our lake cabin.
Kari
Dental Hygienist
I have worked in our office for 24 years. As a dental hygienist, my duties include cleaning and polishing my patients' teeth and educating them so they can take an active role in their oral health. My patients' comfort is also very important to me, and I'm a real softie when it comes to kids! I like the fact that our doctors take the time to explain any necessary procedures to the patient and help alleviate any fears they may have. They also encourage us to attend continuing education meetings so that we keep current with any new advances and changes in the dental field. I have gotten to know many patients throughout the years, and enjoy catching up with them when they come in for their visits.
In my spare time, I enjoy going to the lakes, gardening, hiking, biking and spending time with my family and friends.
Allison
Dental Hygienist
My career began in dental assisting and continued to dental hygiene, which I've done for the past 13 years. I can be found cleaning teeth, providing preventive services, as well as educating patients on the best ways to reach and maintain a great level of oral health. I truly love every aspect of dentistry—no day is ever the same!
I'm married to my husband, Ryan. We have 2 kids and 2 dogs! We are an on-the-go family and you can find us wathcing our kids play volleyball, football and baseball. A few of my favorite things are spending time at the lake with family and friends, sunrises, sunsets, kayaking, coffee, and yoga. I also love travel and adventure and am always up for trying something new!
Angie O
Dental Hygienist
I have worked for Dr. McDonald and Dr. Gruchalla for the past 7 years, and have been a hygienist for 18 years. I truly enjoy educating my patients on their oral health and ensuring they have all the info they need to maintain a healthy smile. Since I have two teenagers and a six-year-old in my house I love educating kids and teens on how to care for their smile starting at a young age.
I'm married to my hubby Tim and have 3 kids, and a golden-doodle Ivy. Outside the office I enjoy coffee, spending time with family and friends, and spending time at the lake. I feel so lucky to be working with some of the kindes, good hearted people that truly want the best for their patients.
Cassie
Receptionist
I graduated from Salina Area Technical College (Kansas) in 2009 for dental assisting and have been in the dental field ever since! I joined the front office of the practice in March of 2021, where I enjoy greeting patients, scheduling appointments, and trying to be as helpful as possible. I have really enjoyed getting to know our patients and assisting them on their dental journeys. I also think our team is pretty awesome and the true definition of teamwork and work family!
I got married to my husband, Nathan in 2015. We have two adorable dogs from 4Luv together, Tater and Mikka. In my free time, I like camping, traveling, craft beer, DIY projects, and tending to my house plants.